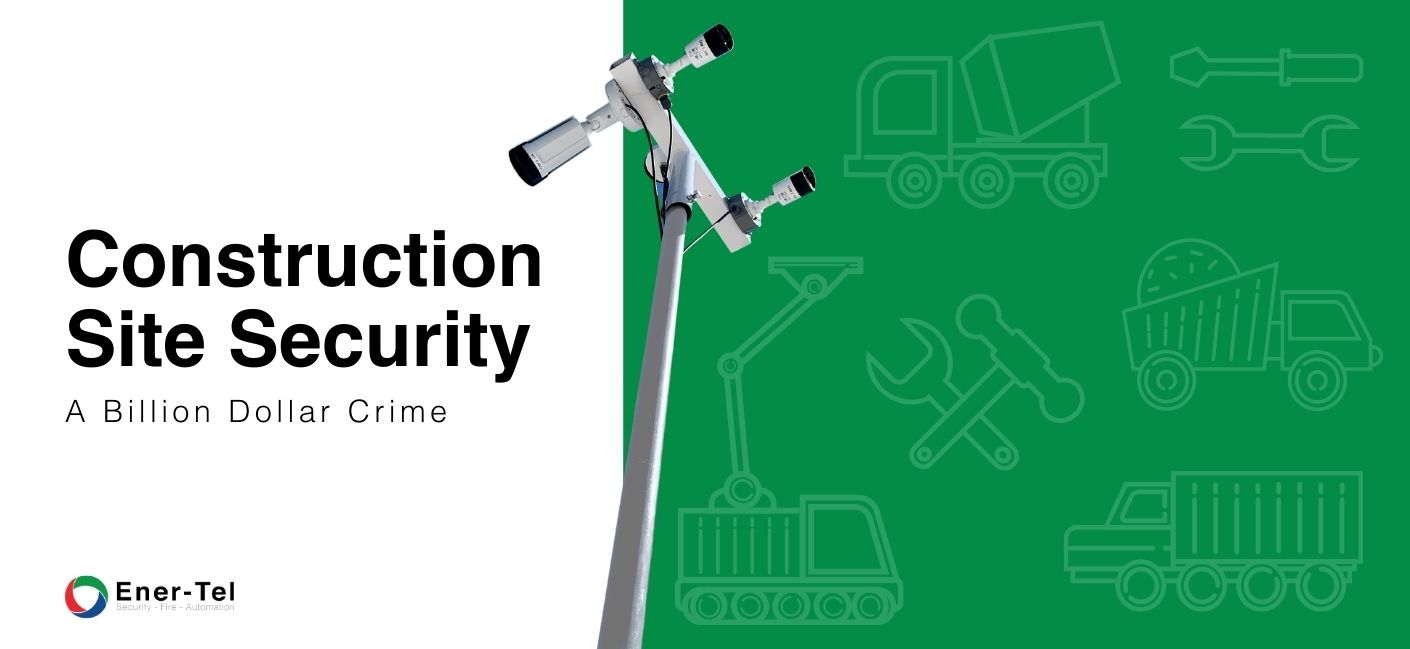 Construction site security is often overlooked. Job sites pose numerous security challenges including theft, vandalism and liability. An estimated $1 billion dollars is lost each year from construction sites with Texas leading the nation in rate of equipment theft, and less than 20 percent of construction site tools and equipment recovered (National Crime Information Bureau; National Equipment Register).
Stolen equipment doesn't just cause monetary loss but costs companies valuable time filing police and insurance reports, moving equipment across job sites or recovering damaged equipment. Any interference with job site equipment slows down business, causes costly delays, and even affects insurance premiums.
So, what can you do that makes financial sense for your business yet is also cost effective and provides suitable construction site security?
Ener-Tel Live offers construction site security and protection through remote video monitoring and surveillance systems from our state of the art monitoring centers.

What are the benefits of having construction site security?
Proactive Video Monitoring
Enter-Tel Live's proactive video monitoring offers a proactive solution that prevents crime. This extremely cost effective solution provides construction site security by professionally monitoring the job site 24/7/365 and giving business owners the option to remotely view their job site 24 hours a day.
If trespassers breach your site perimeter, an Intervention Specialist will issue a live, personalized audio warning to the intruders alerting them that law enforcement authorities and key holders are on their way, deterring them before a crime is committed.
How does proactive video monitoring work with my construction site security?
Cameras with detection software monitor your site for any unusual activity
Software interprets the unusual activity and sends an alert to the Intervention Specialist
Intervention Specialists are live to the site within seconds and take appropriate action
A real time audio warning is issued, alerting key holders and law enforcement authorities
The site stays live until it is secure, and then the client receives a full incident report

Theft Deterrent
Most construction sites are not confined to a building that can be locked up or closed off after working hours. Only a chain-link fence protects some job sites, while others are secured by nothing at all. Not only are the features of proactive monitoring and construction site security cameras important, but the signage and system itself often act as a deterrent, preventing theft before it happens.
Cameras
Each Ener-Tel Live system includes cameras that detect unauthorized access on your job site, allow you to view your job site remotely at any time, and alert Intervention Specialists when suspicious activity arises. These high quality cameras are equipped with infrared, giving you the ability to view your construction site during the day and at night.
Thermal Cameras
Ener-Tel Live is equipped with a thermal camera that gives the capability to detect suspicious activity in the dark. Whether your job site has lighting at night or not, Ener-Tel Live can expose suspicious activity and deter suspicious activity no matter the time of day.
Speaker
Unauthorized access on your construction site will set off an auditory alarm from Ener-Tel Live's speaker. Audible alarms are an important deterrent for intruders by warning them that emergency authorities are on the way.
Solar Powered
Power sources can be difficult to procure on construction sites. Ener-Tel Live is a completely solar powered system. No electricity is needed, increasing the ability to provide construction site security anywhere on your job site.
Remote View
While Ener-Tel Live will be professionally monitoring your construction site, you can keep an eye on the progress and monitor work with remote viewing. With Ener-Tel Live you can access a live view of your job site remotely on your smartphone device or computer.
Mobility
Construction sites are constantly changing. Job sites are always on the move. Ener-Tel Live is a mobile video surveillance system that gives the flexibility and mobility to move the system to adapt with the development of your construction site.
Want to use Ener-Tel Live as your construction site security?
Ener-Tel Live is a construction site security solution that is cost effective and makes financial sense for your job site. Is it time to protect your construction site with Ener-Tel Live's proactive video monitoring?
For a free consultation, click here.
---
Sources: National Equipment Register (NER) www.ner.net, National Crime Information Bureau (NCIB) www.nicb.org